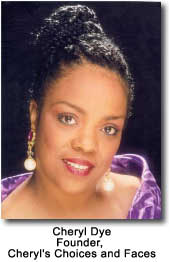 Skin Wellness is rarely included in wellness programs because we tend to concentrate on the health of other organs of the body. Skin is the largest organ of the body. It serves as a protective cover, sensing organ, oil producer, and is important to the elimination of toxins in our bodies.
Skin must be well-nourished if it is to stay healthy; it must be maintained inside and out. Eating nutritious foods, exercising, managing stress, drinking plenty of water daily, and using skin care products that nourish the skin are all part of maintaining healthy/glowing skin. Skin care that moisturizes and beautifies the skin requires a fine balance. Cheryl's skin care products are all natural, nurture the skin, and leave your skin smooth and glowing.
Cheryl's Choices and Faces believe "If you take care of your skin it will take care of you." Specializing in troubled skin, our products will help prevent acne, problem skin, as well as maintain healthy and normal skin. Cheryl has worked in the beauty industry as an Aesthetician for twenty years, perfecting a private label skin care line that rejuvenates and promotes anti-aging skin. Products are natural, fragrance and alcohol free, highly absorbent, deep penetrating, and yet, very gentle. We also offer in-house care that includes microdermabrasions and complete skin care maintenance for all skin types. Visit us at 5417 W. Amherst Circle, Suite 111, Dallas, Texas 75209, (214) 904-1723.
Recent Research has proven that two treatments dermatologist use: Accutane (a drug) and Topical Retinoid (lotions & creams) to control excess oils, have serious side effects. Accutane is documented to be linked to deep depression in many users.
Our skin care products are highly effective. We cater to all skin types, specializing in troubled skin. The goal of Cheryl's skin care products is to:
Hydrate skin

Lubricate skin with moisturizer

Protect skin from the effects of heat, cold, and sun damage

Maintain balance that produces normal skin type
Four common skin challenges:
Acne - Teenagers/Adults

Dry Skin - Aging

Psoriasis - Due to stress

Oily Skin - Due to excess oil
Acne Therapy has three goals: kill bacteria, reduce inflammation, and prevent oil glands from producing excess oil and clogging pores.
Here is a recipe for acne therapy:
1. Kill Bacteria
• Dermaloge Cleanser
• Sea Water Hydrating Mist

2. Reduce Inflammation
• Fruit Enzyme Peel
• Special Clay Mask

3. Prevent Sebaceous Glands from producing excess oil and clogging pores
• Retexturizing Gel